Frigovent establishes itself on the Serbian and global markets as a lead manufacturer of various types of heat exchangers, metalprocessing and project solution for HoReCa and food industry.
With over 15 years of experience in the manufacturing of cooling equipment, FRIGOVENT is specialized in designing, assembling and maintenance of big industrial and commercial cooling systems. In 2013, FRIGOVENT improved its operations, based on Italian know-how, which marked a new phase of its development – the company started producing new series of small and medium size blast chillers used by the food service industry (HORECA). A brand new plant was built and equipped with the best equipment currently available in Europe along with the latest technology in the industry. The starting phase lasted throughout 2014: a large warehouse was built and equipped with a variety of warehouse handling equipment to speed up deliveries; new employees with specific skills and high level of knowledge in both manufacturing and commercials fields were employed.
Production lines for new products were upgraded, completed and tested, followed by CE, TÜV & UNI EN ISO 9001: 2008 certificationn. Everything was done to help the Company, with its high standards of management and quality, penetrate the international market. The Company then had its debut at the international market in 2015, and the reaction was impressive.
The Company found export markets for the largest part of its production output.
In parallel with already described change of its manufacturing process, the company started providing service center operations like tailored metal cutting, bending, punching, cutting by a fiber laser machine and cutting of tin plate of various sizes and thicknesses, and other materials .
MISSION
Our mission is to provide products and services with an elevated quality standard, at a very competitive price level. The company is continuously acting in order to satisfy the requirements of suppliers, customers and employees. Getting always ahead of our customer expectations, seeking answers to following questions: 1. What we do? 2. How we work? 3. Who do we work for?
VISION
Becoming a successful, stable and market-oriented company, geared toward the rational use of natural and human resources is the guiding vision for us. That statement leads us to achieve the following goals:
constant improvement of the quality of the products and services we offer, to make sure that our technological and technical solutions and the equipment that we manufacture and install are the highest quality in the industry worldwide, and our assembling, maintenance and repair services are of high quality and expedient;
meeting expectations of always being a good and a trustworthy partner in our cooperation with our business partners in Serbia and abroad;
very attentive at all times to the requirements and needs of our customers, and achieve customer satisfaction by making our service worth their money and trust.
Quality and Certification
Friogovent. is certified according to ISO 9001 and TUV since 2014, and can claim the following homologations:
94/57/EC Directive for CE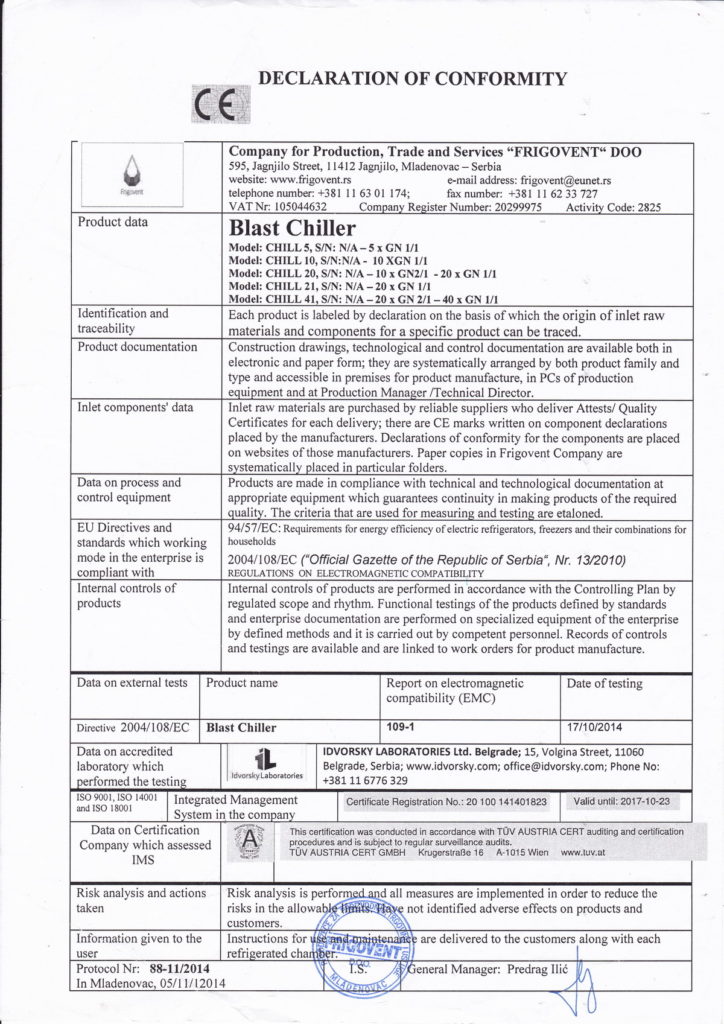 TUV OHSAS 18001:2007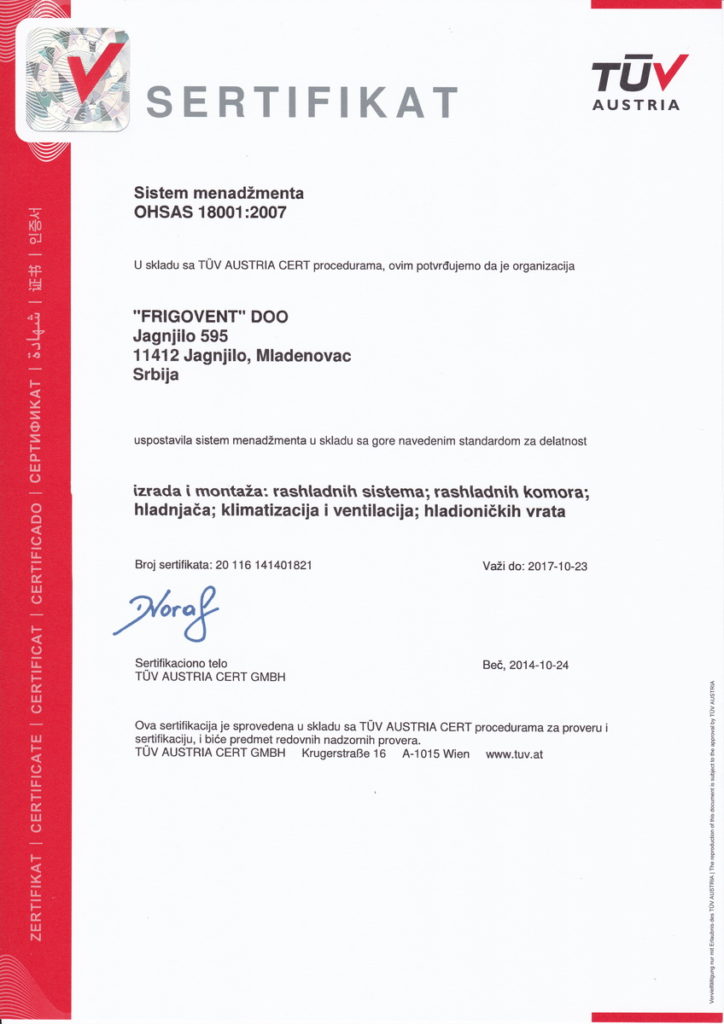 TUV EN ISO 14001:2004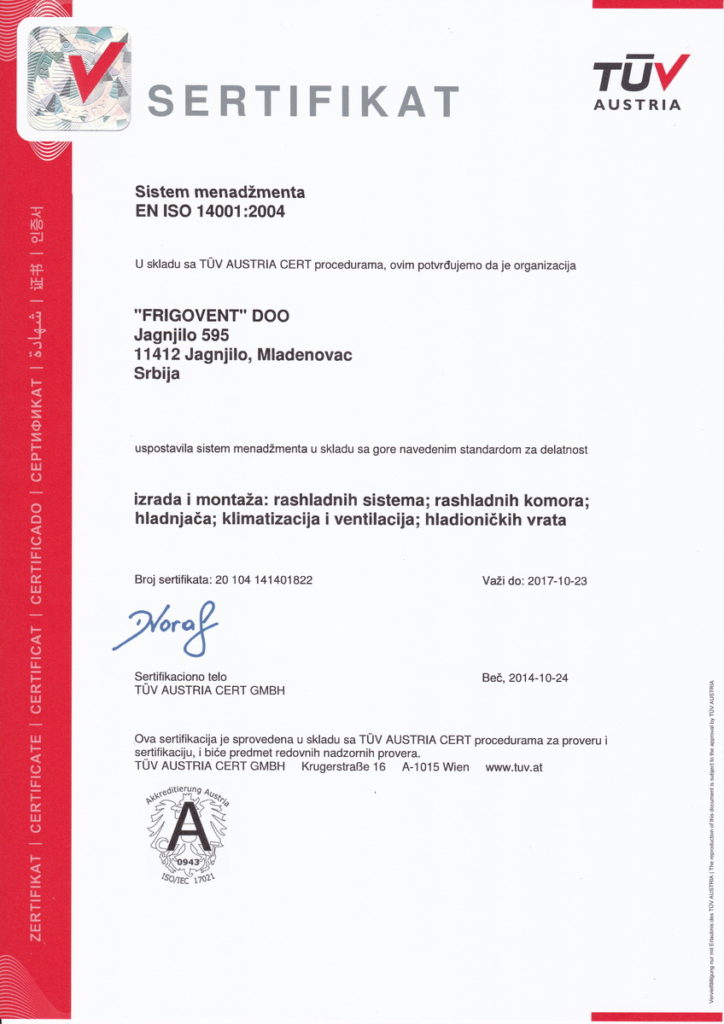 TUV EN ISO 9001:2008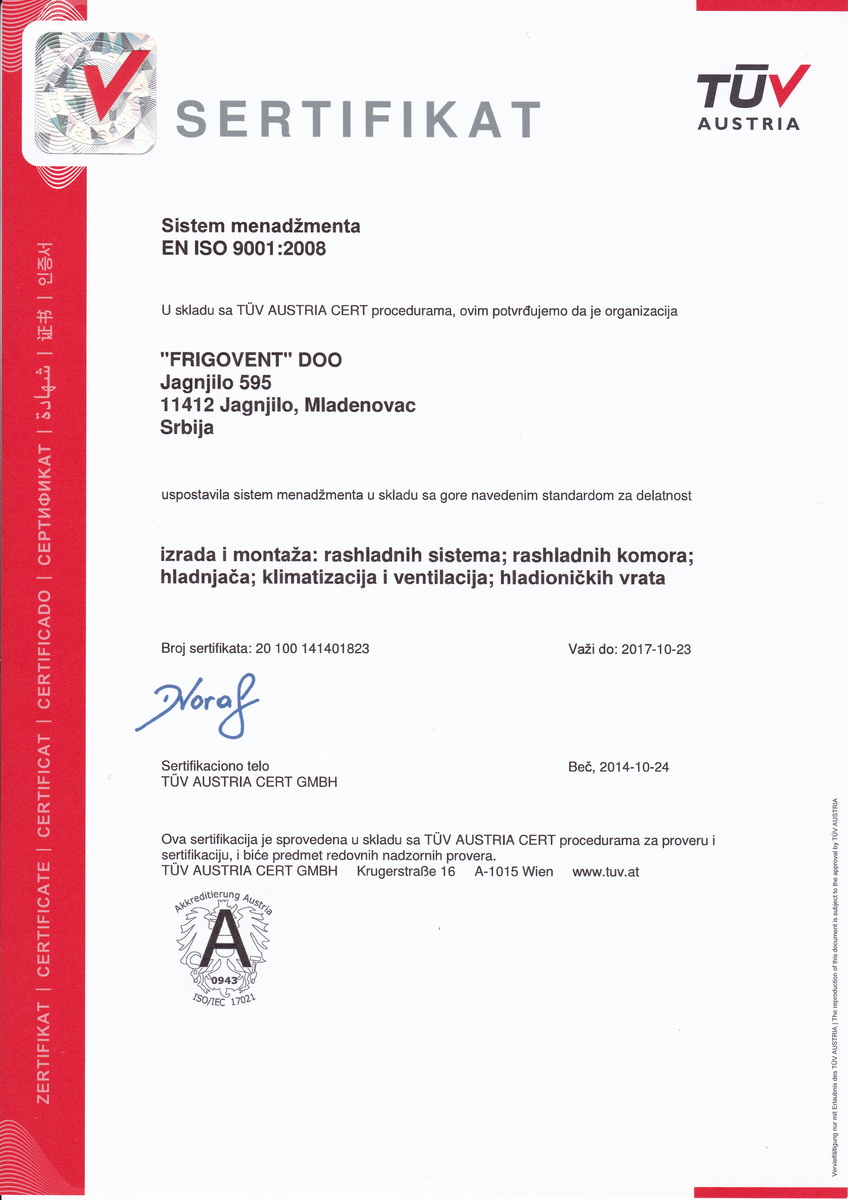 More details about our offer
Frigovent offers quality and knowledge. Our partnership helped us to export more goods and expand.
Aleksandar Neškovski, manager