The Class Line Blast Chillers
The CLASS line consists of 6 different solutions of blast chillers designed, thought out and produced to offer the best in terms of quality of the components used, their performance and reliability.
As an addition to all Energy line devices, the CLASS line also offers:
controller with color graphic display TFT, probe management "multipoint", programs to store the abatement settings.
USB data transfer included
2 years warranty
compressors, evaporators and condensers on the higher level than the ones of common competitors
minimal and intentionally designed technical devices in order to reduce acoustic pollution: -12% compared to the direct competitors
smooth and "mirror like" inner door as well as the internal chamber
standard heated probe.
The controller if fitted with:
clock
signal buzzer and alarm
6 analogue inputs for PTC/NTC probes
4 digital inputs
1 PWM analogue output for managemet the evaporator fan
8 digital outputs (electromechanical relays)
RS-48 serial port with MODBUS communication protocol
USB port
IP65 protection rating of the user interface
memorisation of the defrosting range
management of the temperature alarms
compressor operating hours count
"keyboard lock" function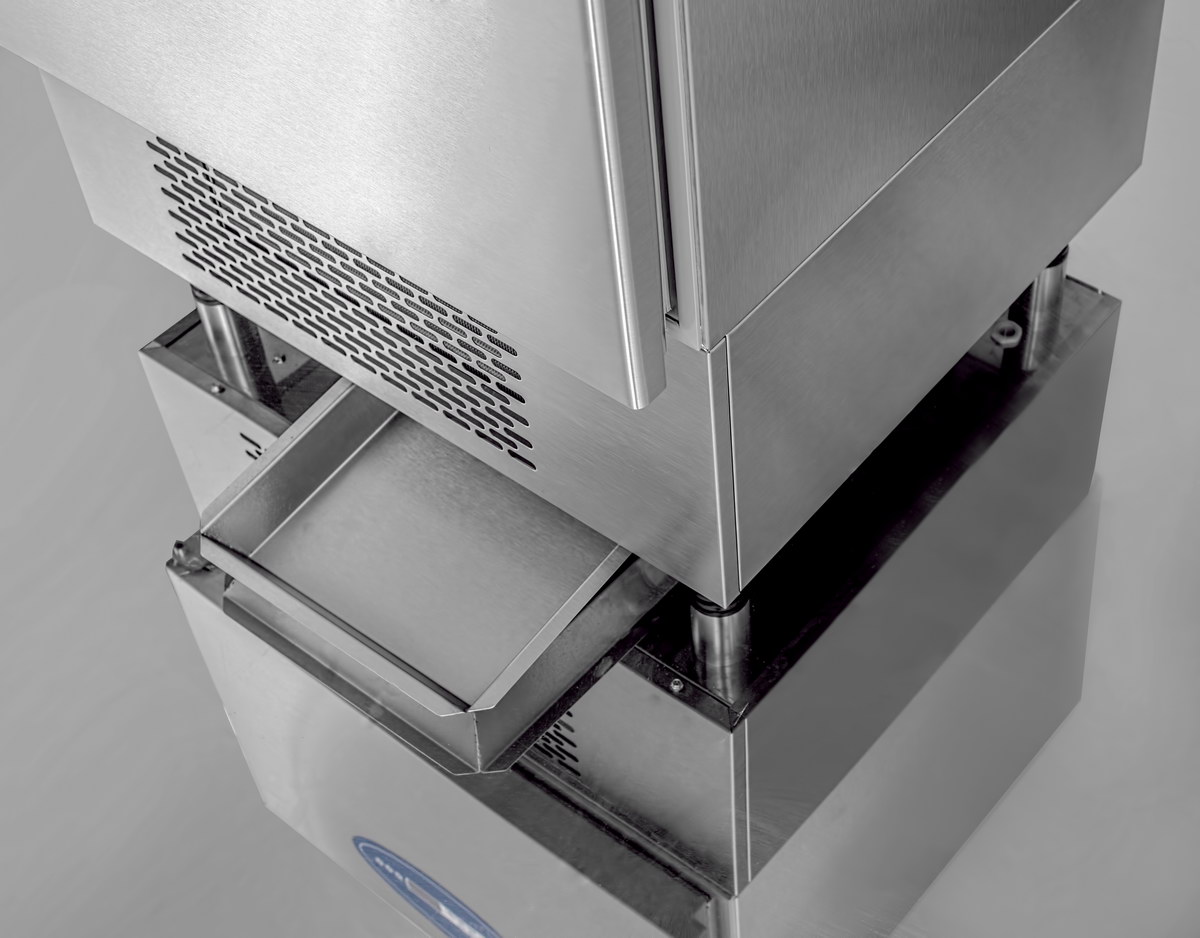 RAPID BLAST CHILLING AT +3°C
Good and quickly, together for the first time.
Quickly lowers the core temperature of just cooked hot food to +3°C. By quickly dropping through the 40°C to 10°C temperature range Freddy blocks evaporation and prevents bacterial proliferation. Ideal for preserving the quality, fragrance, colours and aromas of food, tripling its shelf life. Any cooked food can be blast chilled and kept in the fridge for up to 7 days.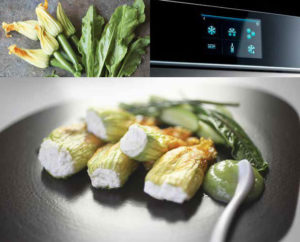 SHOCK RAPID FREEZING (+70°C AT -18°C)
Blast chilling means preserving flavour.
As Freddy quickly reaches a temperature of -35°C inside the cabinet, the shock freezing cycle rapidly takes food to -18°C at the core. In this way preservation is perfect and when thawed food will be exactly as it was when fresh. Shock frozen food can be kept in the freezer for up to 6-8 months.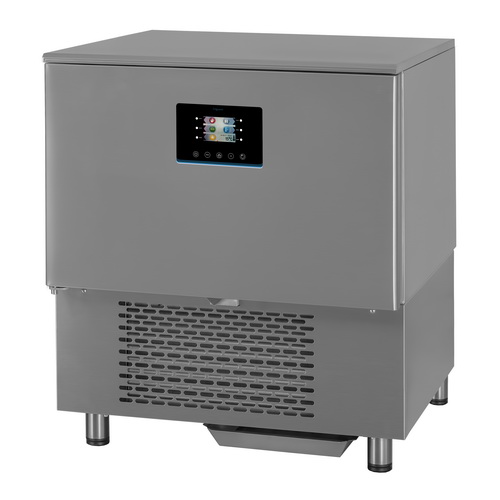 CLASS 5
Specification
Warranty
24 m
Pan capacity
5 (GN1/1 – 600×400)
Distance between trays
GN 60 mm – PASTRY 55 mm
External dimensions
L745 x P710 x H870 mm
Net weight
100 Kg
Gross weight
115 Kg
Power
1.100 W
Voltage
AC 230 V – 50Hz
Output at +70°C +3°C /
90'
15 Kg
Output at +70°C-18°C /
240'
10 Kg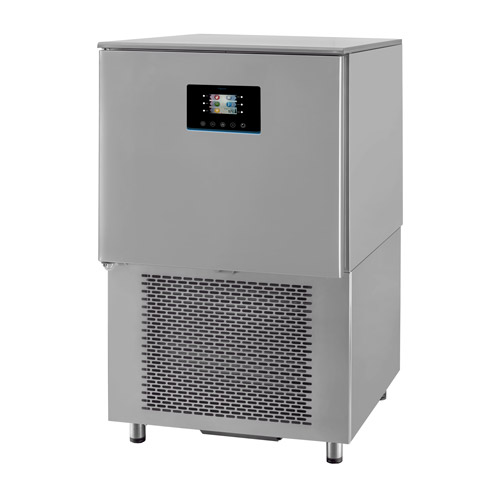 CLASS 8
Specification
Warranty
24 months
Pan capacity
5 (GN1/1 – 600×400)
Distance between trays
GN 60 mm – PASTRY 55 mm
External dimensions
L745 x P710 x H870 mm
Net weight
100 Kg
Gross weightr
115 Kg
Power
1.100 W
Voltage
AC 230 V – 50Hz
Output at +70°C +3°C 90'
15 Kg
Output at +70°C-18°C 240'
10 Kg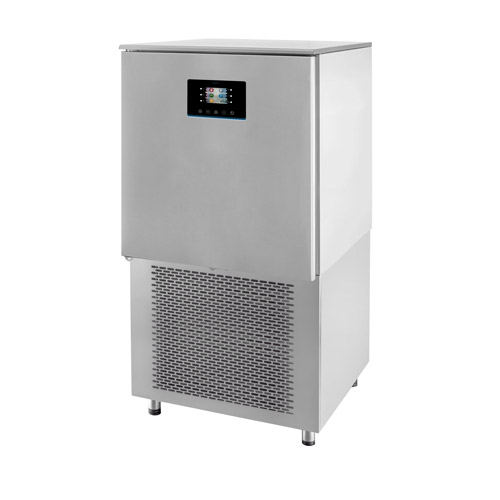 CLASS 10
Specification
Warranty
24 months
Pan capacity
5 (GN1/1 – 600×400)
Distance between trays
GN 60 mm – PASTRY 55 mm
External dimensions
L745 x P710 x H870 mm
Net weight
100 Kg
Gross weightr
115 Kg
Power
1.100 W
Voltage
AC 230 V – 50Hz
Output at +70°C +3°C 90'
15 Kg
Output at +70°C-18°C 240'
10 Kg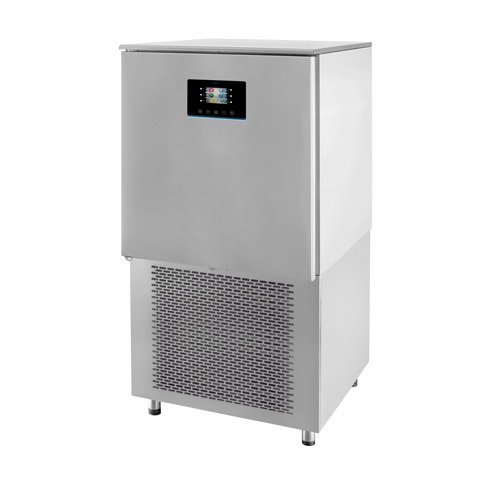 CLASS 20
Specification
Warranty
24 months
Pan capacity
20 x GN1/1 – 10 x GN2/1
Distance between trays
GN 65 mm
External dimensions
L790 x P1200 x H1600mm
Net weight
250 Kg
Gross weightr
295 Kg
Power
4.500 W
Voltage
3N AC 400V – 50Hz
Output at +70°C +3°C 90'
70 Kg
Output at +70°C-18°C 240'
40 Kg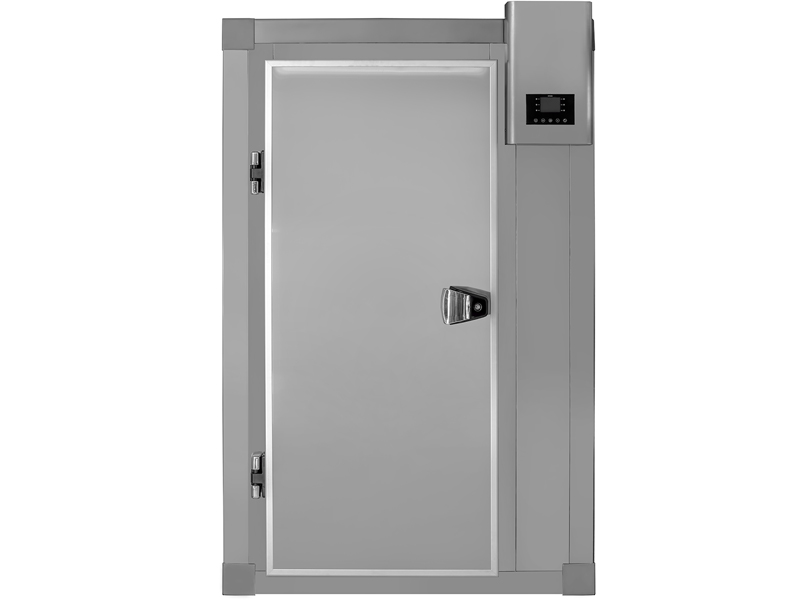 CLASS 21
Specification
Warranty
24 months
Pan capacity
1 rack, tray size 600×800 mm or
2 rack, tray size 400×600 mm
Distance between trays
Standard trolley not included
External dimensions
L1390 x P1190 x H2190 mm
Net weight
280 Kg
Gross weightr
310 Kg
Power
9.000 W
Voltage
3N AC 400V – 50Hz
Output at +70°C +3°C 90'
210 Kg
Output at +70°C-18°C 240'
185 Kg