Maintaining cabinet or banquet is a professional tool that enables keeping cooked or regenerated food at the proper serving temperature of about 65°C. The banquet has been engineered for both big hotels and catering restaurants. It allows food preservation at required serving temperature with minimum energy consumption and without cluttering the ovens with food; it maintains the cooked food delicate and homogeneous thanks to its humidification solution; it has an easy handling.
The Frigovent banquets are provided with:
control panel with ergonomic knobs easy and intuitive to use
high level insulation and maximum security thanks to "stone wool" (fireproof) and not "glass wool" commonly used
removable gasket made of a single piece
inner steel container for humidification
smoothly running non marking rubber rotating wheels. A swivel is on double ball bearing with "trimmer guard" and two brakes
practical rubber bumpers at all four corners
solid plastic & steel ergonomic handles.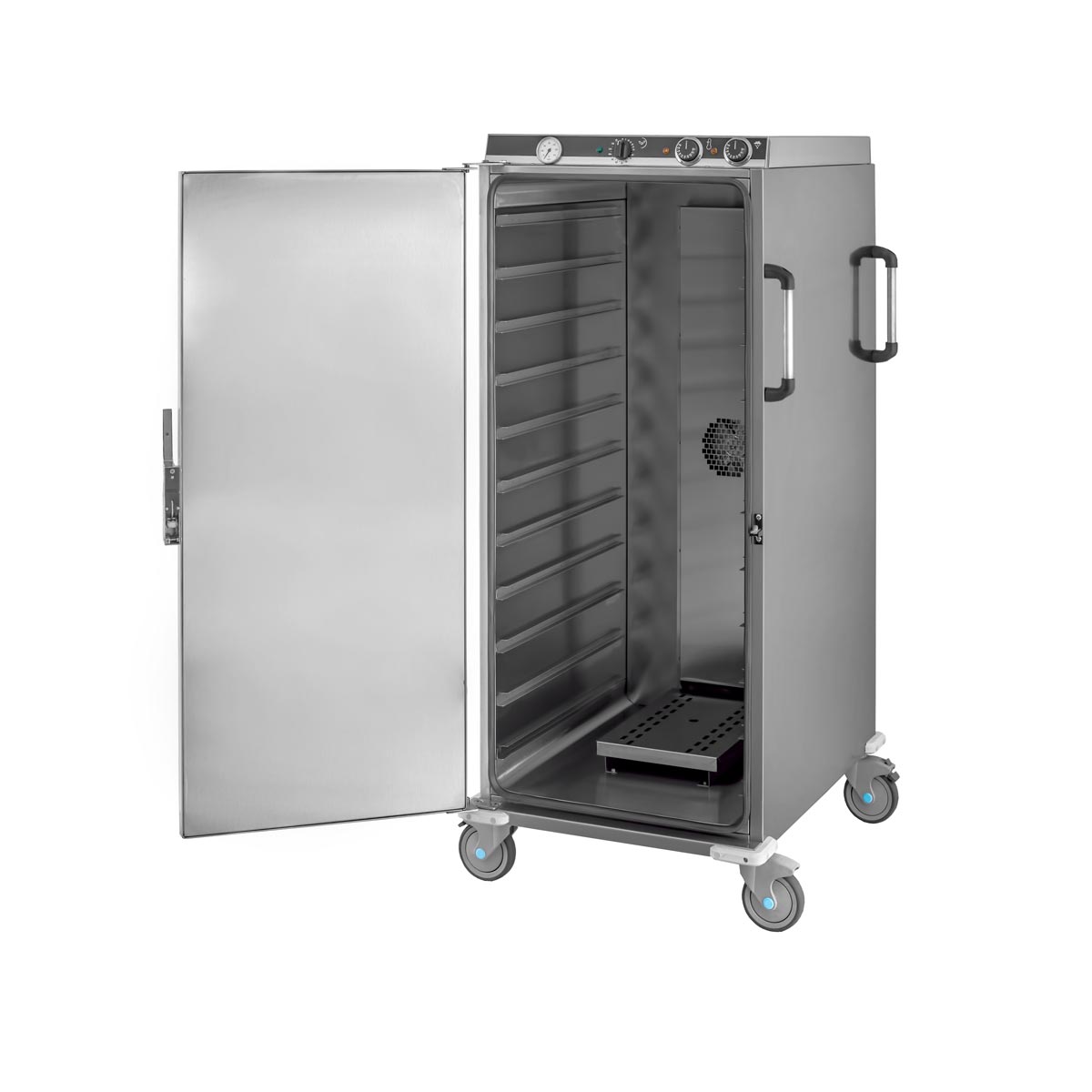 BANQUET 6
Specification
Warranty
18 months
Pan capacity
6 (GN1/1 – 600×400)
Distance between trays
GN 100 mm
External dimensions
L620 x P545 x H1010 mm
Package dimensions
L800 x P700 x H1220 mm
Chamber size
L530 x P400 x H700 mm
Net weight
50 Kg
Gross weight
68 Kg
Power
2.500 W
Voltage
AC 230 V – 50Hz
Operating temperature
30°C – 120°
BANQUET 12
Specification
Warranty
18 months
Pan capacity
12x GN1/1 6xGN2/1
Distance between trays
GN 100 mm
External dimensions
L620 x P870 x H1010 mm
Package dimensions
L820x P10100 x H1220 mm
Chamber size
L540 x P700 x H700 mm
Net weight
70 Kg
Gross weight
90 Kg
Power
2.500 W
Voltage
AC 230 V – 50Hz
Operating temperature
30°C – 120°
BANQUET 22
Specification
Warranty
18 months
Pan capacity
22x GN1/1 11xGN2/1
Distance between trays
GN 100 mm
External dimensions
L620 x P870 x H1550 mm
Package dimensions
L810x P1010 x H1740 mm
Chamber size
L540 x P700 x H1240 mm
Net weight
90 Kg
Gross weight
125 Kg
Power
2.500 W+ 700 W
Voltage
AC 230 V – 50Hz
Operating temperature
30°C – 120°